1. Pay Inequality – Lobby of Court (Thurs 23rd Feb)
2. #HE4Refugees
3. Support the NSS Boycott
4. Quotes of the Week:
5. Nominations for Committee Positions
6. UCU Elections 2017
7. Survey: Take Action on Racism
8. Other Upcoming Events:
– We Love Bath – Demo Against Cuts to Libraries, Arts & Social Care – Petition & Demo (TODAY)
– NHS in Crisis – You Don't Know What You've Got 'Til it's Gone! (Thurs 16th Feb, 19:30)
– Educate, Agitate, Celebrate – Celebration of Migrants in the UK (Sat 18th Feb)
– One Day Without Us – Campaign to Support Immigrants in the UK (Mon, 20th Feb, 1 pm)
1) Pay Inequality – Lobby of Court (Thurs 23rd Feb)

After news of the VC's recent £46,000 (11%) pay rise (versus 1.1% imposed on staff), staff and students have expressed anger and frustration at the ever growing wage gap. The branch has resolved to organise a lobby of University Court, calling for transparency over senior management pay and action to reduce overall pay inequality at the University. All colleagues are encouraged to join the lobby of Court on Thursday 23rd Feb, at 13:45 outside 8 West 2.1.
2) #HE4Refugees
The #HE4Refugees fundraiser is already over 25% of the way to £5,000!. The branch agreed at our AGM to match the first £500 donated by members, so if you haven't already, please give generously. Your committee will be undertaking a number of challenges over the next few months, including the Bath Half Marathon, to raise for the fund. If you would like to do something in your department, anything from sponsored activities to cake sales, or would like other ideas of how to help, please email C.J.Roche@bath.ac.uk.
3) Support the NSS Boycott
Bath UCU is backing Bath SU's campaign to boycott the National Student Survey (NSS). This is a tactic designed to disrupt the government's damaging Higher Education reforms. After hearing from Ben Davies, Bath SU Education Officer, members at our last branch meeting voted without opposition to provide practical support.
Members are encouraged to:
Inform students that their SU, the NUS and UCU are asking them to boycott the NSS because the data will be used to increase tuition fees and further marketise Higher Education, with damaging consequences for students and staff.
Invite SU Officers to attend the beginning of your final year lectures to briefly talk to students about the boycott. Please email a list of available dates, times and venues to sueducation@bath.ac.uk.
Print and display NSS boycott posters outside your office and elsewhere visible to students.
For more information, see the UCU website, Bath UCU blog, Bath SU NSS Boycott page and latest motion passed by Bath UCU branch. If you have any questions about the NSS boycott, please contact the Acting Branch Secretary.
4) Quotes of the Week:
"The scandals with for-profit companies in US higher education, like Trump University, must surely serve as a warning to our government." UCU Comment on privatisation of UK Higher Education
"This is a government that has already moved the goalposts on loan repayment to sting graduates with higher charges, so you can forgive our scepticism when the minister says people with student debts have nothing to fear." Sally Hunt on Government plans to privatise the student loan book
5) Nominations for Committee Positions
A number of branch committee positions remain unfilled.
Branch Secretary (~3-6 hours/week)
Negotiation Committee Secretary (~2-4 hours/week)
Recruitment Officer (~1-3 hours/week)
BME Members Rep (~30 mins-2 hours/week)
Lecturers/Readers Rep (~30 mins-2 hours/week)
Professorial Rep (~30 mins-2 hours/week)
It is important that these positions are filled for the continuing health of our growing branch. You may be eligible to paid release from your job for trade union duties and activities. If you would like to know more about any of these roles, please contact the Acting Branch Secretary.
6) UCU Elections 2017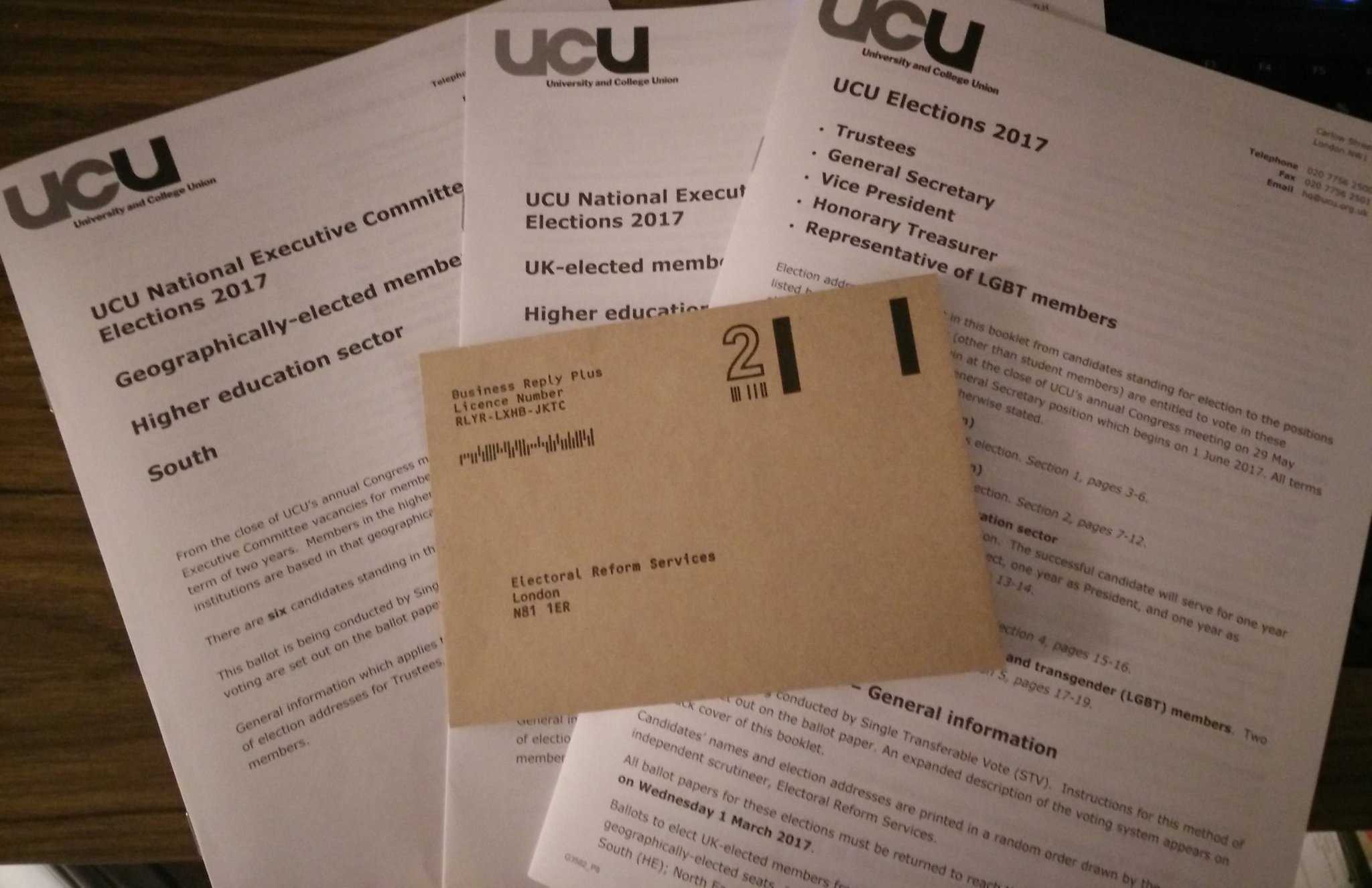 Ballots to elect UCU trustees, the general secretary, vice-president from the higher education sector,  honorary treasurer and NEC members are open from 1st February to 1st March 2017. Your branch President, Michael Carley, is standing for election to the NEC in both the Geographically-elected (South) HE and UK-elected HE ballots. Your branch committee fully supports his candidacy. You should receive your ballot paper by Thursday 9th February. For more information, see the UCU website. Please make sure you use your vote.
7) Survey: Take Action on Racism
Have you or one of your colleagues or friends experienced racism at work? The TUC has launched an  online survey to expose the everyday reality of racism in the workplace. Racism can take many forms, from facing racial harassment to being denied access to promotion or training.
Please act now, encourage your colleagues and friends to complete the survey by Monday 27 February.
8) Other Upcoming Events:
We Love Bath – Demo Against Cuts to Libraries, Arts & Social Care – Petition & Demo (TODAY)
Local residents are resisting plans by B&NES Council to slash social care funding by £6 million over 3 years, close Bath Central Library, build a Park and Ride on Bathampton Meadows and cut funding to the arts. Please join the demo outside the Council vote in Bath Guildhall on Tuesday 14th February at 5 pm. Facebook event. You can also sign and share the library petition to B&NES Council.
NHS in Crisis – You Don't Know What You've Got 'Til it's Gone! (Thurs 16th Feb, 19:30)
Dr Youssef El-Gingihy, GP and author of 'How to dismantle the NHS in 10 easy steps', is speaking at the Friends Meeting House in York Street.
Facebook event here
.
Educate, Agitate, Celebrate – Celebration of Migrants in the UK (Sat 18th Feb)
 Join Bath Trades Union Council to mark their 125th anniversary with a celebration of the contribution of migrant workers to the UK labour movement.
Against a backdrop of rising rascism and xenophobia in the UK and overseas, now is the perfect time to celebrate and rediscover what can be achieved when people of all backgrounds stand together, united.
One Day Without Us – Campaign to Support Immigrants in the UK (Mon, 20th Feb, 1 pm)